Thai App Center ขอแนะนำ Pimp Your Screen
Pimp Your Screen gives you an exclusive selection of themes, Icon Skins, App Shelves, backgrounds and other great content for your screen. Unlock your creativity and never get bored with the look of your device anymore!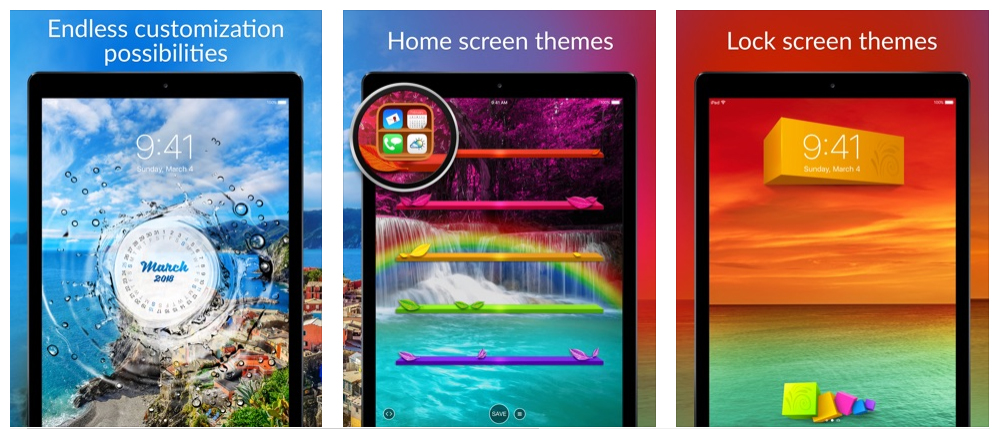 Choose from what we created for you:
* Diverse designs arranged in categories for easier browsing: Abstract, Cartoon, Sci-Fi, Animals, Sports, Nature, Holidays, Minimal, Cities, 3D
* Themes for Lock Screen and Home Screen
* Apple Watch app: let your Apple Watch face perfectly match the look of your iPhone!
Create your own designs with Home & Lock Screen Maker:
* Personalize your wallpapers with text
* Add calendars and frames to your Lock Screens
* Pick Icon Skins and App Shelves to create unique Home Screens
* Use your own photos as backgrounds and create great designs
Useful features you will enjoy:
* New and Popular galleries
* Preview feature: just tap the screen to bring up the icons. There's no need to save each design to see how it looks on your screen!
* Adjustable content cache size: decide how much space the app occupies on your device
* All the designs look great in both Standard and Zoomed display modes
* Share your images on social networks or by email
* Landscape and Portrait images available for iPad
Always something new to enjoy:
* We add new eye candy daily. Just tap 'New' to see updates
* Special holiday and seasonal content updates
Bring some color and glow into your everyday life and change the look of your device whenever you want. It's time to Pimp Your Screen!

For complete access to all Pimp Your Screen features, you will need to allow access to the following:
*Photos for you to be able to save wallpapers and set them up on your device;
*Camera so that you can capture pictures, personalize them and turn into Lock and Home Screen backgrounds right in the app;
*Notifications to keep you informed when new or special themes, backgrounds, calendars and frames are added to the app.
Privacy Policy: http://www.apalon.com/privacy_policy.html
EULA: http://www.apalon.com/terms_of_use.html
What's New 5 Dec 2017 | Version 4.3
Meet Pimp Your Screen optimized for iPhone X!
– Enjoy your favorite themes, Icon Skins, App Shelves & other great content on the large screen of your brand-new device.
Downlad Pimp Your Screen
iOS on Apple Appstore
สนับสนุนการแนะนำ Pimp Your Screen – Cool Themes โดย