Thai App Center ขอแนะนำ Procreate Pocket
Powerful enough for creative professionals. Simple enough for everyone. The award-winning Procreate Pocket is the most versatile art app ever designed for iPhone.
Offering hundreds of varied pressure-sensitive brushes, an advanced layer system, and the breathtaking speed of Silica M, Procreate Pocket gives you everything you need to create expressive sketches, rich paintings, and gorgeous illustrations on an expansive, ultra-portable canvas. Work on the couch, at the beach, on the train, or while waiting in line for coffee. It's a complete art studio in the palm of your hand. Now with all the features you love from Procreate for iPad, Procreate Pocket includes: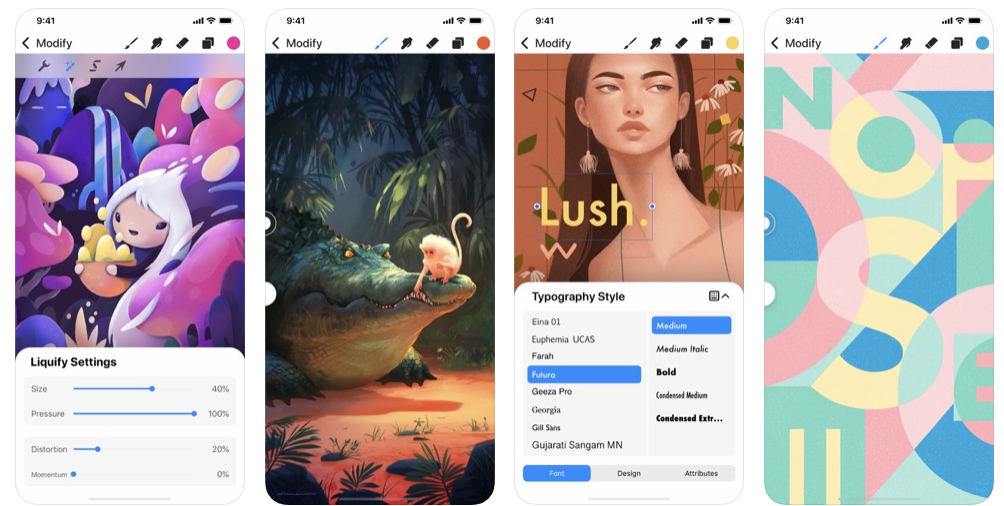 • Features and highlights:
– Massive High Definition canvases up to 8K
– 3D Touch for built-in pressure-sensitive painting
– All-new interface designed exclusively for iPhone
– Advanced customisable QuickMenu puts all your favourite tools at your fingertips
– Revolutionary new QuickShape feature for perfect shapes – instantly
– Powered by Silica-M, the industry leading painting engine behind Procreate for iPad
– Haptic integration for immersive feedback throughout the app
– Deliciously responsive 64-bit smudge sampling
– Optimized for iPhone X and iOS 12
– Stunning 64-bit color
– 250 levels of undo and redo
– Continuous auto-save – never lose work again
• Hundreds of breakthrough brushes:
– Packed with the same beautifully-made brush library as Procreate for iPad
– Over 50 customizable settings for every brush
– Support for leading third-party styluses
– Create your own custom Procreate brushes
– Organize brushes into custom Sets
– Import and export custom brushes and Brush Sets
• Full-featured layering system:
– Layer your artwork for precise control over individual elements
– Use Layer Masks and Clipping Masks for non-destructive editing
– Stay organized by combining layers into Groups
– Select multiple layers to move or Transform objects simultaneously
– Access over 25 layer blend modes for professional compositing
• Color without compromise:
– Quickly fill your art with seamless color using ColorDrop
– 64-bit color for greater accuracy
– P3 Wide color support
– Input RGB, HSB, or HEX values for exact color matching
• The design tools you need:
– Add vector Text to your illustrations
– Easily import and export all your favorite fonts
– Refine Text spacing and alignment for a perfect finish
• Powerful drawing guides:
– Perspective, Isometric, 2D, and Symmetry visual guides
– Drawing Assist perfects your strokes in real time
• Dramatic finishing effects:
– GPU accelerated for lightning speed
– Add exclusive Perspective Blur for incredible results
– Disconcertingly fast Gaussian and Motion Blur filters
– Add Noise to your canvas, or Sharpen your image for perfect clarity
– Adjust Hue, Saturation, or Brightness in stunning real-time
– Powerful image adjustments including Color Balance and Curves
– Let the mind-bending power of Liquify Dynamics blow your mind
• Industry leading video features
– Relive your creative journey with Procreate's celebrated Time-lapse Replay
– Export your Time-lapse recording in 4K for high-end video production
– Share a thirty-second version of your Time-lapse recording with your social networks
– Broadcast your drawing process live with your favorite streaming service
• Share your creations:
– Export as layered native .procreate file, PSD, TIFF, transparent PNG, multi-page PDF, web ready JPEG, or animated GIF
– Import or export Adobe® Photoshop® PSD files
– Export to any connected location, including AirDrop, Files, iCloud Drive, Photos, iTunes, Twitter, Dropbox, Google Drive, Facebook, Weibo and Mail
– Easily share canvases to your iPad to continue creating on a larger screen
What's New
Jul 16, 2019 | Version 3.0.2
This update offers minor improvements to Procreate Pocket, including fixes to the importing of older documents, translation corrections, and solutions for assorted crashes.
* Previously, scrubbing to clear a Text layer triggered crashes
* We have also fixed the crash caused by using Cut, Copy or Paste on a Text layer after Distort or Warp.
* ColorDrop now allows you to undo or cancel without crashing
* Issues with editing QuickShapes with Simplified Undo disabled
* Simplified Undo also wouldn't visually update Text layers until another action was performed.
* Loading Gallery Preview no longer causes intermittent crashes
* Importing older Procreate documents from the Gallery occasionally produced blank layers
Downlad Procreate Pocket
iOS on Apple Appstore
สนับสนุนการแนะนำ Procreate Pocket โดย